The 4th (final) Transnational Project Meeting (TPM) of the Erasmus+ YES C+C Project "Enhancing creative, cultural and innovation skills for adults" took place in Münster (Germany) on January 31st – February 1st. The meeting was organised by Holly Dagnan and Arndt Selders from Bennohaus, consortium partner.
During the two-day meeting, the Project Consortium (PC) had the opportunity to discuss the next steps before the end of the project. At the first day of the meeting, the PC worked on the different elements of the preparation of the final report: checking the deadlines, sharing their feedback after implementation and exchanging about the Multiplier Event feedback/plans. During the morning of the second day of the meeting, besides other feedbacks about implementation, PC focused on communication, future plans and new common projects continued. The meeting ended with the distribution of certificates of attendance.
Visits
Project representatives also had the opportunity to make a study visit to the B-Side Culture Association, an inspiring socio-cultural center located at the edge of the Dortmund-Ems canal, in the city center of Münster. In the morning of the second day (February 1st), the PC was honored to be greeted by Münster Mayor Angela Stähler in the Hall of Peace. The Historical City Hall of Münster was one of the theatres of the negotiations of the Peace of Westphalia which concluded the Thirty Years' War in Western Europe and the Eighty Years' War between Spain and the Republic of the Seven United Netherlands. It was the site of the Peace of Münster of 1648. Such an interesting visit to learn about European History, Peace and Democratic Values so necessary today. Afterwards, the PC get the opportunity to visit the City Museum Münster and LWL Museum.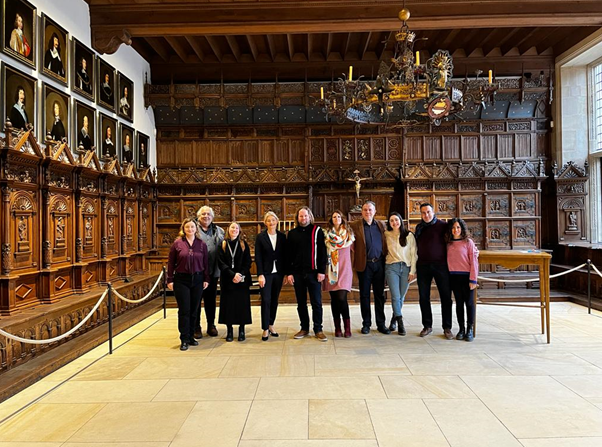 City
Münster is an independent city in North Rhine-Westphalia, Germany. It is in the Northern part of the state and is considered to be the cultural centre of the Westphalian region. It is also capital of the local government region Münsterland. Münster was the location of the Anabaptist rebellion during the Protestant Reformation and the site of the signing of the Treaty of Westphalia in 1648 ending the Thirty Years' War. Today it is known as the bicycle capital of Germany. Münster gained the status of a Großstadt (major city) with more than 100,000 inhabitants in 1915. Currently there are over 317.000 people living in the city, with about 66.000 students, only some of whom are recorded in the official population statistics as having their primary residence in Münster.
Conclusion
The Final Transnational Project Meeting of Erasmus+ YES C+C Project was a great occasion for the PC to meet again and many fruitful results were accomplished in the course of the meeting. Looking forward to future collaborations!